I want you to meet a very special friend. I've known Mary online a long time. I was even privileged to help her get a manuscript ready for submission. Now she's sold several books. Way to go, Mary.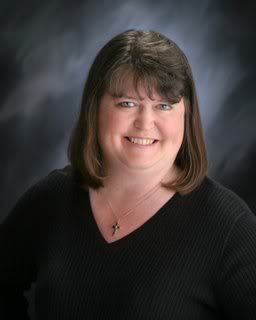 Tell us how much of yourself you write into your characters.
I don't think much. Instead I write my characters to be how I wish I was. Fearless, sassy, saying out loud all the things I keep inside. That works in books, but mostly is messes up a real life.
What is the quirkiest thing you have ever done?
Hmmmm….quirky? Me? My idea of life on the edge is taking an hour off for lunch. I feel like a madwoman, so daring, sometimes I even…brace yourself…drive to a town with a mini-mart that sells sub sandwiches. Okay, calm down. Sorry if I've shocked you.
Good grief. I've got nothing. I'm going to go do something quirky if I can think of anything, then I'll finish this question. Okay, I'm back. I tied my shoelaces together (after I took them off) and threw them up until they snagged an electric wire. I'm now barefoot. At work. I hope you're happy.
Mary, you are so funny! When did you first discover that you were a writer?
I wrote my first book at age twelve. Long lost (no doubt for the best.) But I've always loved writing. Always. You should see my daughters' baby books. I wrote all over them. I always thought the words were more important than locks of hair and pictures.
I'm sure they love them. Tell us the range of the kinds of books you enjoy reading.
I read widely and in all genres. I think every genre can be well done. Ummm…I haven't really read too many vampire books. Did you know there are lots of vampire books out there? So, I don't read EVERYTHING.
I'm an eclectic reader, too, but I'll pass on the vampire books as well. What other books have you written, whether published or not?
I have around fifteen unpublished novels on my computer. A lot of them are earlier work and need a lot of attention but I still love those stories. For a while I just entertained myself by trying my hand at everything. Jumping from genre to genre. Historical, contemporary, sweet romances, police drama, action/adventure, gothic. I've got a book about a demon-possessed serial killer that is one of my most spiritual books, but it's too bloody. I've got to tone it down. It's also very funny. I can't seem to write anything without comedy. Despite saying I write everything, I don't see any vampire books in my future.
I'm thankful for that, I think. I don't want to have to read one just because you wrote it. How do you keep your sanity in our run, run, run world?
I live a very quiet life, actually. I work as a GED Instructor. I'm in one small room all day, five days a week. My lunch is, more often than not, a peanut butter sandwich, an apple and a can of Diet Coke in my car listening to KLOVE or Rush Limbaugh depending on my mood. I'm usually home with my husband in the evening, and occasionally my 17-year-old daughter gives us a break and stays home with us. I read and write for hobbies. Watch some TV, but I don't care about much of it. I'm also really good at crossword puzzles and I'm hooked on Sudoku. That's it, my run, run, run life. Now I'm wondering how I keep my sanity with my dull life. I like it this way, though. In my experience, excitement is usually bad. Something's on fire. Someone got hurt. Spare me from excitement.
How do you choose your characters' names?
That's actually tricky. I have a huge family. Between Ivan and me we have one hundred people in our immediate families. That's brothers and sisters, their spouses and children. All the names are taken! So I can't name a villain after one of my nephews, now can I? I'm also aware of how a name sounds.
Clay, the hero in
Petticoat Ranch
, sounded strong to me. But is Clay strong? Or is it Play Dough? Sophie the heroine had an old sound to it and strong and wise and pretty. Beth, the daughter who loved animals, sounded gentle. Judd the villain sounded coarse and tough. But maybe I just thought that after I made them be that way.
What is the accomplishment that you are most proud of?
If you knew my four daughters you would never ask that. They are my life's work and they are wonderful. I'm not sure if I can take all the credit for that, but I'm sure I'd get the blame if they were messed up, so I'm going to go ahead and take the credit.
Wow, your husband had to live with five females. James and I only have daughters, and I've told him that I believe there is a special place in heaven for men who live with only women in the house. If you were an animal, Mary, which one would you be, and why?
Funny question, Lena. (insert a two hour long pause here while I think) I'd be a deer. Not because I am fleet of foot and graceful. Because I startle easily and I'm the type to just stand there, frozen, while headlights are bearing down on me. But give that deer a typewriter and…okay, I've taken this analogy as far as I can.
Funny answer, Mary. So, what is your favorite food?
This one isn't even nice. I didn't get into this shape by being all that picky. My favorite food in the world? I love this apricot torte from the Lithuanian Bakery in Omaha, Nebraska. It is the best food in the world. But I can be very content with many, many, many different foods.
Sounds like I would enjoy that torte, too. I love anything apricot. What is the problem with writing that was your greatest roadblock, and how did you overcome it?
I think my … disconnectedness. Is that a word? I live in rural Nebraska. If the world were flat, the edge would be about a half mile over the hill from my place. I did most of my learning alone. For the first five years I wrote alone. No writer's how-to books, a few very old and dusty college creative writing courses. No critique groups, or writers groups or on-line groups. So I had to learn it all by trial and error. Heavy on the error. Then I started to get connected, mainly through the internet and found out I still had a long way to go.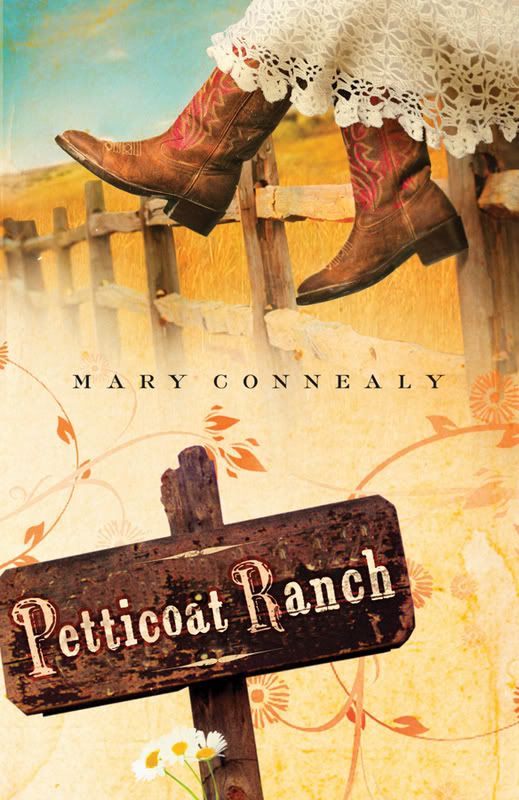 What would you like to tell us about the featured book?Petticoat Ranch
is what happens when a man with six brothers—like my husband Ivan, has a wife and four daughters.
Ivan spends a lot of time flinching over the talk in our household. I've seen him watch us in horror as we discuss the ins and outs of control top panty hose. He goes nuts when one daughter or another goes on some drastic diet when she's so slim and beautiful. He can't stand it when the girls cry over nasty boyfriends. For a while he'd give the girls money whenever they'd cry. He used to just pull out his billfold and hand them a twenty.
I love that, Mary.
I told him that was a bad precedent to set, but he would just do ANYTHING to get them to stop. So I thought, what if it was even worse? Ivan at least got to start with one wife, then one baby daughter. He at least had a mother and classmates and girl cousins. What if Clay, a mountain man, raised by his father, surrounded by other mountain men, grew up in a remote corner of the Rockies and had hardly seen a woman. Then in one short shocking day, he ends up married to a widow and her four daughters. What would that disruption in his universe be like?
Throw in a heroine with a very dim view of men because her first husband was worthless. Sophie's been taking care of herself in a hard land for a long time. Then watch the culture shock.
Petticoat Ranch
is a (keep track of the genres now) historical, inspirational, romantic comedy, action novel.
When the genre is almost as long as the book, you know there's going to be a lot going on. My main goal was to make it fun. My prayer was always to have my work be worthy of God. I hope that I've accomplished both in
Petticoat Ranch
.
Your genre sounds almost like the one I made up for spoof at the Barbour dinner at conference last year.Mary, thanks for taking this time and letting us have a glimpse inside your life. I look forward to many more wonderful books from you.Readers, be sure to leave a comment on the interview for a chance to win a free copy of Petticoat Ranch. If you want to see a slide show about this book, go to
www.myspace.com
and do a search for Petticoat Ranch. Or do a search for Mary Connealy.